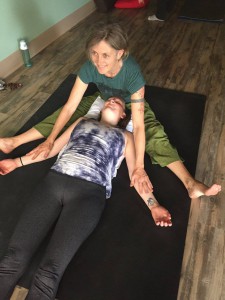 Saturday, February 18, 12:30-5:30pm
Embrace Yoga & Health, 360 Dufferin (south of Queen)
Small class of 10 = a lot of one-on-one instruction!
Thai Massage is an ancient bodywork practice which combines acupressure, energy meridian stimulation, and yoga-like stretching, which encourages great relaxation and rejuvenation and provides effective therapeutic relief for many common orthopedic issues.
I completed the entire advanced curriculum at The Old Medicine Hospital in Thailand after having completed Level 4 at Thai Massage Toronto and have worked with hundreds of clients since becoming certified in 2010. I also do table work as a certified holistic massage practitioner (2008). As a practicing yoga teacher at Yogaspace in Toronto and I can suggest ways to incorporate Thai massage into yoga assists for other teachers.
Anyone who would like to learn about the theory and techniques of Thai massage is welcome to attend this introductory workshop. Look forward to bringing the many benefits of Thai massage to friends and family or to learning highly effective new techniques to incorporate into your massage practice. Many Thai massage techniques can be adapted to work on a table.
If you just want an introduction to this ancient practice without committing to a full certification training, this is the perfect workshop for you!

No bodywork experience is required.
Wear comfy clothes such as what you would wear to a yoga class and bring a friend! This is a partner workshop. You can bring a partner or be paired up when you get there.
Bring a yoga mat if you have one. There will be mats there for those who don't have their own.
$50 in advance / $60 at the door* Go here to book: http://harmonyhands.ca/book/ or send an e-transfer to
jen@harmonyhands.ca . Or send a cheque to 31 Melbourne Avenue #203, Toronto ON M6K 1K4
*A maximum of 10 participants will be accepted so pre-registration is required to secure your place in the workshop. 
There will be no refunds for cancellations within 48 hours of the event.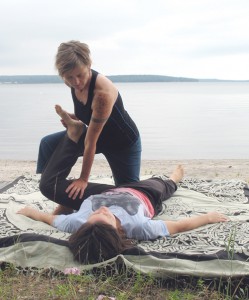 "Jennifer Gillmor's extensive training, experience and ease in the area of Thai yoga massage was clearly evident in this workshop. Complete with handouts, hands-on demonstrations, and plenty of opportunities to practice, Jennifer was able to guide her participants in a well organized, logical sequence of Thai massage moves targeting common areas of stress. Jennifer's personal, light hearted manner and the sensitive attention she was able to give everyone, set everyone at ease and made the whole experience not only safe, but thoroughly enjoyable.

If you want to be popular with family, friends or a partner, this workshop delivers some wonderful massage tools that are accessible and safe."
~ Enza Gaumond, high school teacher, yoga instructor, energy worker, participant in the Guelph workshop last year.
Drop by the Harmony Hands Facebook page for updates.