Yoga
I am teaching Friday mornings at a little studio called Yoga Grove with the sweet tagline Small Studio. Big Difference. You will not ever be disappointed to be among a large class, bumping into others students and with no individual attention, as the classes are capped at 6 participants. They are also available virtually.
I also teach Flowyoga privately (see the description below), or modified yoga for limited abilities. Currently, I'm offering private sessions on Zoom for $60.
I am available for private or group classes. Enjoy a yoga session in your home via FaceTime, or Zoom. Email makeyourbodysing@gmail.com or call 416.899.3342 to discuss how I can serve your needs.
WHAT IS FLOWYOGA?
Do you find modern city life intense and, at times, overwhelming with its characteristic busyness, hectic pace and the urban density that obfuscates the Natural World that is all around us? I have felt this to be so and I have found sanctuary in yoga for almost thirty years.
I am naturally a driven, fiery character who has historically found it challenging to be still. Yoga has been a great gift in helping me to realize the fruits to be relished in slowing down. An athletic, fit person since childhood, I continue to enjoy a good, sweaty workout at the gym. What I look for in yoga is something quite different to round out my self-care. The form of yoga I prefer to practice and teach is a style of Hatha referred to as Flowyoga.
While I teach proper form in the interest of safety, Flowyoga does not emphasize details of alignment. In this style, the focus is on clearing physical and energetic blockages through slow, conscious movement and the long holding of poses, calming the mind and soul. As with all yoga, it takes the body through postures which bring it greater comfort, strength and flexibility while encouraging prana and blood to clear the circulatory and energy systems. A Flow class is well-rounded with up to 28 postures targeting all areas of the body.
In my ongoing study of human anatomy and physiology, I have learned that certain benefits of yoga literally reverse the aging process. Yoga builds strength and increases bone mass, preventing osteoporosis. It softens and stretches connective tissue and tones muscles, keeping us strong and limber. It lubricates joints by increasing the production of synovial fluid, keeping them healthy and preventing arthritis.
I recommend yoga to anyone who wishes to age comfortably and gracefully. If you seek to explore spiritual meaning, you may contemplate the body as the vessel through which the Divine in us is manifesting. Yoga postures will allow us to create a purified vessel with a freer and smoother flow of prana (life energy). Periods of meditation help us to come home to our core selves and find the peaceful, positive place where we all belong.
MY TRAINING
I became a Certified Yoga Teacher in 2011 through my training at YogaSpace in Toronto's west end where I taught from 2013 to 2019. I trained under Kathryn Beet (Asanas, Teaching Methodology, Hatha, Vinyasa), Patricia White (Hatha, Anatomy and Kinesiology), Hali Schwartz (Philosophy) and Ursula Buck (Anatomy). I completed additional specialization in teaching Flow with a 30-hour training under Bibi Hahn. Flowyoga came from the tradition of Amrit Desai via Ken Scott (now in BC), through Kaila Kukla to my teacher Bibi Hahn.
ADDITIONAL ADVANCED YOGA TRAINING
• Yoga as a Healing Modality, taught by osteopath and yoga instructor Marinella Nesso, 2020
• Adaptive Yoga, taught by Darcie Clark, 2017
• Advanced Pranayama: The Art and Science of Breath, taught by Karusia Wroblewski, 2015
• Building a Sustainable Hatha Practice, taught by Patricia White, 2015
• Restorative Yoga, taught by Kathryn Beet, 2011

Testimonials
Jennifer Is an awe-inspiring bundle of joy, care, sweetness, knowledge and talent. I cannot recommend her more highly in the capacity as a yoga teacher and massage therapist.
~ Bibi Rahim-Hahn, Flow Yoga teacher at Yogaspace, Toronto.
Jen's yoga feels to me each time like a journey out of daily life to just be with my body and truly in it in a consciously relaxed state. I so enjoy her calm, present, guiding voice that doesn't feel like command, neither like having read a fairy tale to me, but is connective on a deep level. Her guidance leaves space for your own explorations. Restrictions never come from her, but rather, I feel invited to challenge the restrictions my body presents to me at times. I feel held, cared for, guided and dared at the same time, which leads to an invigorated beautiful state at the end of each yoga session. ~ Iris Haussler, Artist
One of the things I love about your flow class is that you bring us into an internal focus from the very beginning and you keep us there throughout. It's a state of mind. We do all of this incredible physical work from a quiet meditative centre with concentration on breath. The result is a far better workout, and I feel energized, open and stronger afterwards. And I love that no two classes are the same. You've always got something new. Love your classes, Jen! ~ Jim Taylor, Artist and Educator
You are a fantastic teacher, Jen. Your voice and pace are so steady and melodic. And I love the language that you use … very creative, very invitational, with lots of options for different skill levels. I felt really calm, focused and rested at the end.
~ Nadine Feldman, Senior Certified TRAGER Practitioner
I've done two of these virtual yoga classes and I am hooked! Jennifer Gillmor is a great instructor and the fact that she is also a masseuse makes a big difference. I've been practising yoga for 20 years myself so if I'm saying this is good, it's good. All levels, very easy to follow and well-paced. You will feel very chilled out after.  ~ Carmen Toth, Copywriter, Actor, Musician.
Jen's emphasis on a flow/meditative form of Hathayoga, rather than a competitive and performance practice of pursuing pose perfection, makes yoga especially accessible for beginners, and those who feel their musculature is tight, inflexible, with quite limited mobility.
 
Seasoned advanced yoga practitioners are also given plenty of challenges, but this group also comes for Jen's advanced empathy and wisdom. She always gives options about levels of difficulty, because she knows the poses so thoroughly.
Most importantly for myself, her conviction about the foundational importance of radical self-acceptance, gets very usefully condensed around the limits of one's bodily abilities. So envy of others, and greed to excel are gently put aside.
~ Myles, MD, Psychoanalytic Psychotherapist
I love Jen's class! I've been doing it for years at Yogaspace. It's an excellent balance of the spiritual side with mindfulness and movement. ~ Ekin Yagman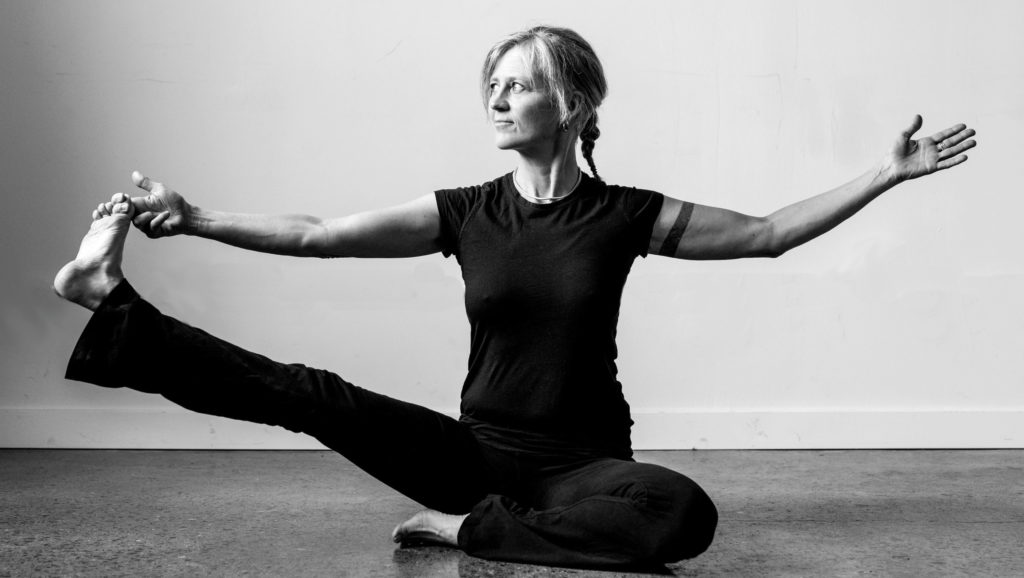 $10 suggested minimum
/ Group Online Classes
$85
/ 90-minute Private Class