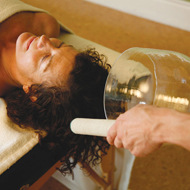 Introducing a luxurious, incomparable service from Harmony Hands that is an extraordinary antidote to physical pain and/or emotional stress.
You'll enjoy a blend of bodywork modalities married with therapeutic sound and live improvised cello and flute music to ease your body and calm your mind and spirit.
Choose table massage as a pampering ritual for myofascial release, restorative relaxation and positive shifts to your energy system. You may choose instead to receive a Thai massage, an ancient bodywork practice which combines acupressure, energy meridian work and yoga-like stretching. This encourages greater flexibility, relaxation, rejuvenation and exploration of your body's capacity for movement. You will remain clothed as you are massaged on a comfortable mat on the floor.
Each session begins with the slow, soft beat of a frame drum over your body to entice you into a receptive, meditative state. The pure, cleansing vibration of a crystal singing bowl will ripple through your body from feet to the top of your head.
Receiving the deep vibrations of a didgeridoo is a profound experience that moves energy in an intense and enjoyable way. Such sound elements break up both physical and energetic stagnation. They are shamanic techniques utilized by various cultures for centuries.
After your massage has left you floating in sweet stillness, your spirits will be soothed by live cello and flute improvisations intuited to cater to your current emotional state.
Feel free to draw on my experience as a yoga teacher to instruct you on pertinent poses to assist you in your healing.
Home visits in Toronto.
Men by referral only.
$225 includes a 90-minute table or Thai massage with soundwork followed by a 30-minute customized musical serenade on cello and flute.