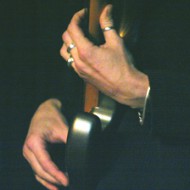 Are you a musician whose body must withstand many hours per week (or day) of practice and performance? I am a longtime multi-instrumentalist and I understand that musicians are the athletes of the small muscles. It is easy to underestimate the immensity of the demands that professional musicians place upon their bodies. In order to prevent injury, there is much to learn about proper posture, as well as maintaining playing positions with strong and supple bodies.
Learn ways to prevent injury
I am available for consultation either in person or via the video chat method of your choice. We can discuss ideal ergonomics and appropriate stretching and strengthening to help keep your body safe and happy for your hours of music-making. I can also offer exercises that can act as a psycho-physical neural retraining of your movements to help your body find greater ease.
Email me for details.
Get relief from injury
If you are already hurting from the repetitive strain your playing has impacted on your body, come see me for a massage. I have several musician clients who have found Thai massage especially effective in creating lasting relief. I will also recommended strengthening exercises and stretches to help you get better and stay better.
Book now.
COMING SOON! New skills to help your musicianship flourish
I am currently training to become a teacher of Bodymapping, a combination of applied kinesiology, anatomy and the Alexander Technique. Instrumentalists learn to understand their body's movements and bring them to most efficient use. This results not only in fewer repetitive strain injuries but also BETTER SOUND!