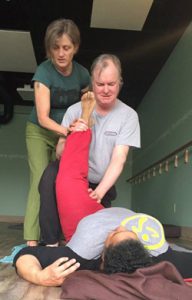 I have just secured February 18th for a Toronto Intro to Thai Massage Workshop in Toronto at the beautiful Embrace Yoga & Health at 360 Dufferin (just north of Queen). Plenty more info to come as we head into winter.
What I would like to know from you is what do you think the ideal length of time for a 1-day workshop is? The intent of this training is to introduce participants to the general idea of this ancient modality and to teach a selection of its most effective techniques. We will study techniques with the receiver in sitting position as well as lying face-up (supine) and face-down (prone).
I have taught a 4-hour workshop and a 2-day workshop (on consecutive weekends). This time I was thinking of 12:30-5:30pm for Saturday, February 18th. How does this seem to you in terms of attention span, energy level and feeling you've had a satisfying introductory dive into a wonderful new skill to share with your loved ones? The space is only available from noon, but I could take it into a 6 or 7 hour stretch with a break if that feels better.
Or, we could do 12:30-5:30 on two consecutive Saturdays for a deeper training with more time for supervised practice. An advantage of the 2-day option would be that you can return on the second day after having had time to practice and you will be able to bring questions from that experience back to the instructor. What do you think?
I look forward to your feedback! Please comment below or on the Harmony Hands Facebook Page.